RX Hydra Exosome Lotion is a hydrating lotion that soothes and softens skin through its formulation of natural moisturizing agents and herbal extracts that work in harmony to regulate skin's moisture and oil balance and create a fortified skin barrier; also provides deep hydration, healing to damaged skin and refreshing finish thanks to its exosome, liposome components and hyaluronic acid complex that penetrate deep within skin's layers up to the surface.
Product Features:
- Fortifies skin with a rich moisture barrier for a dewy, glowing radiance
- Natural extracts soothe, hydrate, moisturize and protect the skin
- Liposome technology effectively delivers active ingredients to the dermal layer for increased absorption and effectiveness
- Gradually fades discolorations and spots in your skin while also preventing melanin production
- Dermafirm only uses safe ingredients and formulated products are clean, worry-free, cruelty-free, paraben-free, preservative-free, and free from harsh ingredients or artificial colors. Please see more details from Dermafirm's GREEN Label of highest product safety through its natural formulation - FREE of 20 harmful chemicals, allergens, and preservatives.
Primary Ingredients and Benefits:
- Nelumbo Nucifera Leaf Extract - As part of the lotus family, this extract is referred to as "sacred lotus" for its potent antioxidant, anti-inflammatory, and antiaging effects; this extract is known to promote healing, balance oil and moisture, hydrate and improve elasticity to promote youthful, healthy skin.
- Ceramide NP - A naturally occurring lipid that hydrates and protects skin from the external environment.
- Six types of Hyaluronic Acid including high, mid, and low molecular sizes to thoroughly moisturize skin: Hyaluronic Acid for moisture balance, Sodium Hyaluronate for external hydration, Hydrolyzed Hyaluronic Acid for internal hydration, Sodium Hyaluronate Crosspolymer to maintain moisture, Hydroxypropyltrimonium Hyaluronate to improve hydration, and Sodium Acetylated Hyaluronate to replenish moisture.
- Panthenol - Also known as ProVitamin B5, this skin-conditioning vitamin helps regenerate healthy skin, hold in moisture and enhance the skin barrier.
- Betaine - A plant-based moisturizer that absorbs quickly into the skin and keeps skin moisture in balance.
- Palmitoyl Tripeptide-1 - Also known as pal-GHK and palmitoyl oligopeptide, this synthetic fatty acid-linked peptide can help repair visible skin damage and stimulate collagen production to minimize wrinkles and improve skin texture.
- Protects skin from damage caused by pollution, sun exposure, and natural aging processes.
- Allantoin - Hypoallergenic plant extract that moisturizes and smooths the skin, while also protecting the skin from irritants.
- Squalane - A powerful antioxidant that fights skin damage and free radicals to reduce the signs of aging, also hydrates, softens, and soothes redness in the skin.
- Niacinamide - Vitamin B3 derivative that corrects dark, uneven spots to clarify and brighten skin tone.
- Adenosine - Improves cell regeneration to minimize the appearance of deep wrinkles and restore elasticity.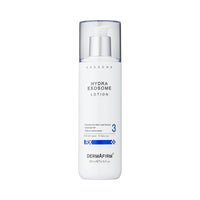 RX Hydra Exosome Lotion
$81.00