Key Points 
BIOTOCREGENThe BIOTOC Regen line features a combination of traditional medicinal plants with peptides created by modern science. This skincare line contains seven types of peptides including EGF and IGF, 17 types of amino acids, and Terrabiome, made by traditional fermentation methods all combined in a special ratio to deliver maximum anti-aging effects, including improved elasticity and wrinkle reduction as well as brightening.
Revitalizing the skin with a clear improvement in elasticityDERMAFIRM's proprietary, patented component Terrabiome is produced using DERMAFIRM's exclusive fermentation processes. Combined with small peptides, this component penetrates the deeper layers of the skin, delivering nutrients while minimizing irritation and noticeably treating pores and wrinkles immediately following application. Reduces wrinkles deep within the skinA combination of seven types of peptides including EGF and IGF, 17 types of amino acids, and lotus callus culture extract helps improve aging skin and regenerates new skin cells. Winner of the British LUXlife's Leading Developers of Medical Spa Treatments 2020 Award [Leading Developers of Medical Spa Treatments 2020] Highly praised for its effective and innovative BIOTOC technology that is suitable for all skin types.

Product Information
Absorbs deeply, making the skin clean and clear from the inside

The gel-type serum gently permeates into the skin and maintains a long-lasting moisturizing effect. The active ingredients of niacinamide, licorice extract, green tea extract, and others help clear and brighten the skin.

Tighten the wrinkles from deep inside the skin!

7 peptides with potent efficacy improve aged skin conditions and help to regenerate new skin.

Human-friendly ingredients that give fast action without irritation and toxicity

By applying biotechnology to low M.W. peptides present in the skin of the human body, it penetrates into the skin and the effect can be seen quickly without irritation and toxicity.
Human Application Test Report
DERMAFIRM Chosen by Dermatologist
Details
How to Use
The Biotoc line contains active ingredients that may increase your skin's sensitivity to the sun. Limit your sun exposure while using this product and always wear sunscreen.
An aggregation of oriental herbal medicine and modern technology helps the skin to be firm and healthy. Smoothes fine lines and texture and reduces the appearance of wrinkles.
INSTRUCTIONS: Apply a few drops (a small amount only) and spread the serum evenly around the forehead, eyes and mouth. Gently massage with upward strokes until fully absorbed.
CAUTION: For external use only. Discontinue use if redness or irritation occurs. Avoid direct contact with eyes. Keep out of reach of children.
DSC (Derma System Cell) Method
The Biotic's skin solution is designed to minimize the irritation of the skin by breaking down nutrients into small particles through fermentation process then absorb it.
Main Components and Effects
Niacinamide
It is a stabilized vitamin C derivative that improves dark spots and unevenly discolored skin tones, making the skin clear and cleans from the inside.
Ginseng extract
It contains saponin and polyphenol, which is extracted from the roots of ginseng. It protects skin from harmful oxygen species and gives energy and vitality to tired skin due to aging.
17 amino acid complex
Amino acid is an ingredient with excellent skin affinity and a high absorption rate. It acts on the skin barrier to help to stabilize the barrier, increases the moisturizing and retention of the skin and keeps the skin healthy. It has moisturizing properties of the corneum soften the skin and helps to improve the skin by participating in the collagen activity.
Lotus callus culture extract
Extracts derived from lotus callus, rich in skin protection ingredients and effective in improving skin vitality, helping to strengthen skin barrier and restore skin health.
7 Peptides
A peptide is composed of two or more amino acids and performs various functions depending on the combination of amino acids. It plays an important role in maintaining skin health by helping cellular metabolism.
Adenosine
Adenosine is an ingredient, approved by MFDS, that is excellent for anti-aging and wrinkle improvement. It is a cellular component that has excellent stability and tenacity when absorbed into the skin. It helps the synthesis of proteins and collagen in the dermis and is excellent for improving the regeneration of the cells. It strengthens the elasticity of the skin and helps to improve wrinkles.
*The above is limited to the characteristics of the raw material
Before & After Use
Clinical Trial Results
The effects of Biotoc confirmed in 4 weeks of in vivo experiment!
Skin Wrinkle Photo Data (Antera 3D)
Before & After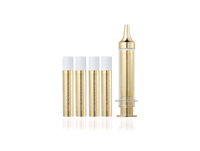 BIOTOC Regen Serum
$190.00